3 Reasons You Need Water Pipe Leak Detection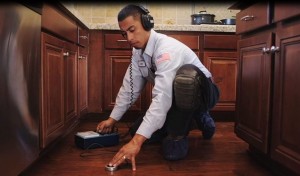 All homes have water pipes that run through the walls and under the foundation. Most times, these pipes work as designed and flawlessly deliver water to and from plumbing appliances. Sometimes, though, due to age, clogs, poor installation, or other factors, water pipes break. When this happens, it's critical that you call a plumber for water pipe repair as soon as possible or you put your house at risk of developing serious water issues and slab leak damage.  Aliso Viejo Allstar Plumbing knows that one of the best way to avoid major damage is to be proactive and call our top-rated plumbers for  water pipe leak detection in Aliso Viejo.
Do You Have Aging Pipes?
Aliso Viejo is a community of mixed-aged homes. There are newer builds in the area as well as homes that have stood their ground for almost a half century. Older homes have charm, but they also having aging pipes. Many homes in the area were built when cooper piping was the material of choice. Unfortunately, this material can corrode over time leading to weak spots that can develop leaks.
Has Your Water Bill Increased?
A rising water bill is one of the first signs that homeowners have that indicates a plumbing problem. We tell people to consider their water usage. If their water bills are getting higher and higher with each cycle, but their use hasn't increased then these individuals should call their local Aliso Viejo plumber. A licensed technician will use the latest leak detection equipment to test for leaks in pipes in walls, under the foundation, and also perform a visual assessment to look for leaks that may be in pipes under sinks and around toilets.
Benefits of Early Detection and Water Pipe Repair
Allowing leaks to exist, hidden or otherwise, for any amount of time puts your home at risk of water damage and mold growth. It can also lead to expensive repairs that could have been avoided had the leak been caught early.
If you suspect you have a leak, give us a call for same-day water pipe leak detection in Aliso Viejo. Our certified, outstanding leak detection plumbers are available around the clock to assist you with your residential plumbing concerns.